The XR-INTERACTION innovation network links companies and research institutions to form strategic partnerships. The goal is to bundle technologies and competencies for joint innovation projects.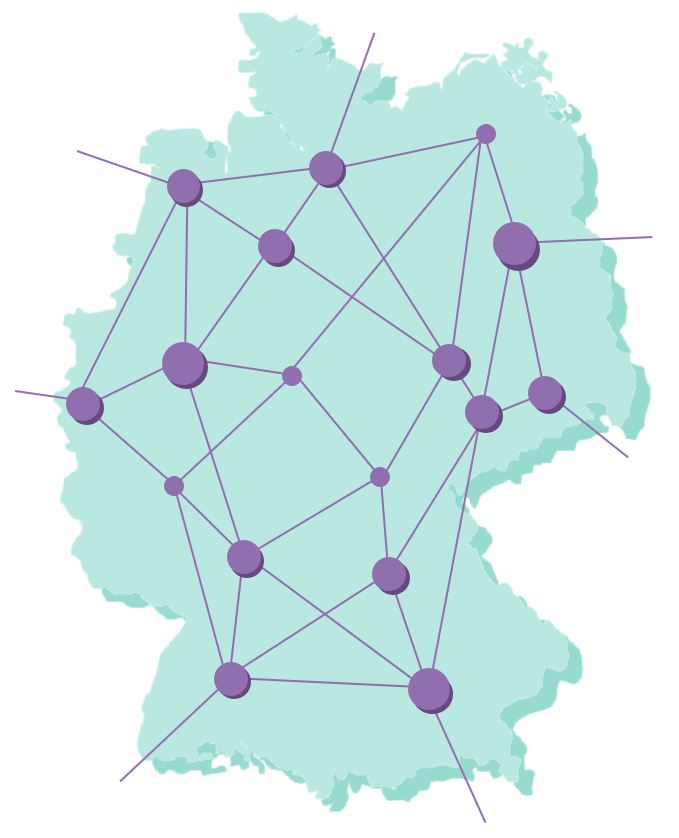 Strength through networking
Pool resources of the medium-sized German XR industry through strategic partnerships and make them available for joint innovation projects.
Immersive computer technologies are seen as the next evolutionary step in the digital world. A walkable Internet that connects the digital and real worlds (extended reality/XR), it is assumed, will disruptively change many areas. The development of the technologies behind this is being driven by international tech corporations by means of large investment programs. However, the German XR industry also has innovative key technologies and internationally competitive competencies, but consists mainly of micro-enterprises, start-ups and research institutions. Strategic partnerships for joint research and development can help to better exploit the existing potential and reduce risks. The goal of the innovation network XR-INTERACTION is to establish a network of companies and research institutions that researches and develops scalable systems of Extended Reality for broad socio-cultural applications.
Exploiting synergy potentials
Combine key technologies and core competencies from different partners to develop breakthrough innovations in extended reality.
The implementation of innovative XR applications requires the use of a variety of basic technologies and know-how in a wide range of fields. The small deep-tech companies and application developers in the German XR industry are often specialists in their field. The combination of these key competencies and technologies in cross-company innovation projects thus offers great potential to develop internationally competitive solutions "Made in Germany". Germany's excellent scientific landscape offers a particular locational advantage in this respect. Public project funding can not only ensure the feasibility of cross-company research and development, but also the transfer of new findings from science and research into commercially viable technologies and applications.
From generative AI to immersive sound, the German deep-tech industry has many key technologies hidden in small companies and research institutions
Strategy development and implementation on the basis of research funding
End-to-end innovation strategy across company boundaries, to leverage synergies and pool resources.
The XR-INTERACTION network actively promotes the emergence of innovation clusters and contributes to the development of innovative application ideas based on process chains between partners with complementary competencies. But what happens after that? Small companies in particular do not have the financial resources to carry out costly and risky research and development. And a high degree of innovation often also entails a high degree of market uncertainty. The network therefore provides easy access to public research funding, especially on the basis of the ZIM (Central Innovation Program for SMEs) funding guidelines, but also through the use of other funding programs. Innovation projects can thus be tackled across companies with the right partners and with lower financial risks. In order to exploit as many synergies as possible in the network, the innovation projects are embedded in an overarching strategy. In this way, projects can benefit from each other and build on each other. The broad-based network with larger exploitation partners and subsequent users offers ideal opportunities for transferring the results obtained into marketable products and services.
The actively managed network phases enable a cross-partner innovation process from idea generation to implementation and exploitation.